Our role
Project partner responsible for:
Hosting the fourth Learning Teaching Training Activity
Attending online / face to face meetings and LTT activities, being actively involved in project activities
Helping with collecting environment friendly sport activities in an e-book (as extracurricular activities and including them into the teachers' module )
Conducting the dissemination activities (publishment of periodicals / e-journals)
Organising a multiplier event / an orienteering event
Helping with Risk Assessment
Helping with the scenariobook with the manual on how to integrate mobile learning in the activities and glossary
Coordinating the sustainability of the Project; using our project content in international training activities.
Contributing to the development of activity and material sets – suggesting innovative, environmentally friendly cultural and sportive activities to complete the e-modules.
Coordinating the adaptation process arising from social differences-l organising inclusive team building /communication / problem solving and decision making / adaptability and planning /trust building activities to minimize social discontent
About us
The Institute for Sport and Education Development was established on January 19, 2012. The inaugural conference was held at the Ministry of Sport and Tourism in Warsaw. The mission of the institute is to support and implement initiatives aimed at increasing the society's knowledge and skills on physical culture and sports education.
The aim of establishing the Institute was the need to combine knowledge and practice, willingness and possibilities, as well as commitment and gathering committed and passionate experts in one place.
The achievement of these goals is possible thanks to the active work of many people who, over the years of the Institute's activity, have contributed their knowledge and gained experience, increasing the effectiveness of their work.
Currently, the Institute carries out projects in the field of supporting and implementing social initiatives and projects focused on education, culture and physical culture. He is involved in innovative solutions in various areas of social life and promotes innovative methods and forms of training sports personnel.
As part of its activities, the Foundation Institute for Sport and Education Development invites all entities to cooperate, including associations, foundations, municipalities, as well as local governments, municipal companies and OSiRs, clubs and everyone who is interested in cooperation in the field of sport. The proposed partnership is possible in various forms, including through patronage, project partnership, publishing cooperation, substantive support in the organization of national and international events, assistance in obtaining honorary patronage and promotion in nationwide media. Due to the specific nature of each project, the form of cooperation is adapted to individual needs.
---
---
News from this partner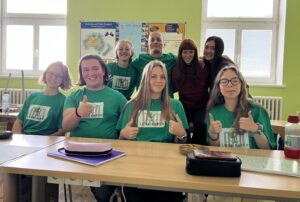 September 26 is famous for the European Day of Languages which has been widely…