Our role
Project coordinator responsible for:
Coordinating the project
Hosting the first Learning Teaching Training Activity
coordinating online / face to face meetings and LTT activities, being actively involved in project activities
Contributing to the development of intellectual outputs specifically to the Intellectual Output 3 (e-modules; activity and material sets)
Piloting the intellectual outputs
Providing the necessary controls and warnings in the budget and time management
About us
Taufer's Veterinary School is well known and respected secondary veterinary school from Czech Republic. It is located in a beautiful historical town Kroměříž and offers a four-year graduation in Veterinary Medicine. The study combines quality theoretical training with thorough practice in well equipped school campus, or in cooperation with more than 20 renowned partners.
We have unique campus with multiple modern laboratories, stables, veterinary surgery and other specialised equipment for practical training and studies. Our students take care of our own horses, cows, sheeps, hens and other animals.
The history of the veterinary school in Kromeriz dates back to the 1950s, but its predecessor, the peasant agriculture school, has its roots in the second half of the 19th century. This school existed until 1948, and during the occupation it was a refuge for many young students, whom it saved from deployment to Germany. In 1952, a completely new school of agriculture was established in Kroměříž, and it´s veterinary department was then the only one of its kind in the country. Since 1998 the name of our school is Taufer's Veterinary College in honor of the great veterinarian, teacher, editor and scientist Josef Taufer (1896-1940).
Since 2006 we are member of UNESCO Associated Schools Network. We also participate in Erasmus+ and other international projects and activities.
During 70 years of our history, we are proud of more than 5000 successful graduates, which are highly valued on the labor market and also manage difficult studies at specialised universities.
---
Latest news from this partner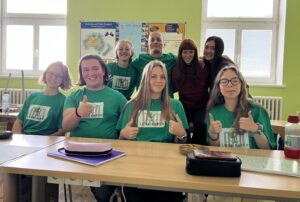 September 26 is famous for the European Day of Languages which has been widely…